Martha Stewart mailed out her holiday cards yesterday. It's true (she also weight trained at some point in the day, such the ambitious woman). And as I read this in the beautiful December issue of Living, instead of feeling anxious, agitated and downright pissed off, I grinned and took a deep breath. Not because I had already sent mine out weeks ago. Oh, no. I smiled because I made the decision not to send holiday cards out this year. Repeat, THIS YEAR.
Earlier on today I shared this bit of news with my best friend Kari while we toasted nuts, fed Bea and caught up on our lives. Knowing me as well she does, her mouth hit the floor. "You're not?!" she cried. Another good friend, Ellen, felt it was against what I stand for (and not great for business) to forgo mailing out a holiday greeting. And I get it. I am all about mailing words and images of peace, love and cute babies. But here's the deal, one thing had to go this year and it happens to be the annual card. I think everyone needs a break every so often, and this was my year. And when I made this decision, I felt relief and joy because I knew this gave me more time to play with the kids, listen to holiday tunes, bake, write in my journal and gaze at the tree while the fire burns. No guilt involved.
However, one thing I have learned from owning a paper goods store over the past few months is a trend I was afraid to confirm. The general public is not purchasing the simple holiday card. Although I have sold sets here and there, they are usually purchased for teachers, bosses or people who you might not be as close to. These days everyone is all about designing their holiday picture card online. And why not when you look at the fabulous selections and deals?
You have minted, tinyprints, Shutterfly, Pinhole Press, polka dot Design, and pear tree greetings to just name a few. Thousands of designs, all with great deals of course.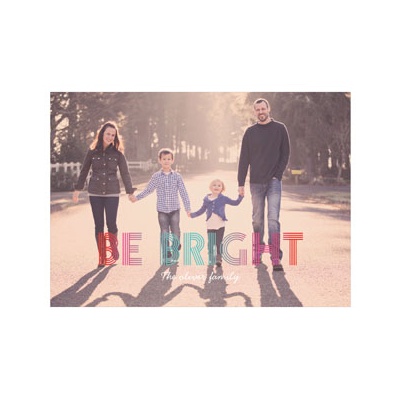 The one thing I do miss with these pictures is the personal touch. The written name, the quick update, the personal wishes from one family to another. Of course I love seeing the changes with children over the years which can only be seen in the pictures. But something has been lost in today's holiday card. And I'm not sure if we'll be going back.
One thing I have decided, instead of sending out our annual family photo, I will be using a few of the holiday cards from Brown Ink Paper Goods, adding a picture from instagram and mailing out a handwritten letter to a small group of friends and family who I haven't connected with in awhile. And I can do all of this in a few hours, sitting beside the tree with Johnny Mathis in the background. However you reach out to your loved ones, Martha would feel it's a good thing.