In case life has not given you a moment to stop and shop, here are few more ideas to get you going.
First, just in time for the holidays, find unique paper goods at Brown Ink Paper Goods Holiday Sale with 20% off your entire purchase through December 21st. Please use Discount Code: HOHOHO20 at check out. Guaranteed delivery by December 24th if you order by 4pm this Friday, December 20th!! We even wrap your goodies for no charge.
Also, a few others which have caught my eye….
Gold Snowflake by Aileen Cheng Design could be used for brilliant New Year's greeting card.
The Typewriter Stamp Kit from terrain will make any hand-made card an original.
Letters In The Mail is a brilliant service which mails out letters at least twice a month from well regarded authors; some typed, others handwritten. For the young adults, Letters For Kids will be written by children's authors, many of the them including a return address to write them back. And it's only $5 a month! This all comes to you from The Rumpus, a place where people come to be themselves through writing. These people are passionate about writing!!
Since our family loves paper, stars and the moon, this 2014 Astrology Calendar from the Little Paper Planes online shop grabbed my attention right away.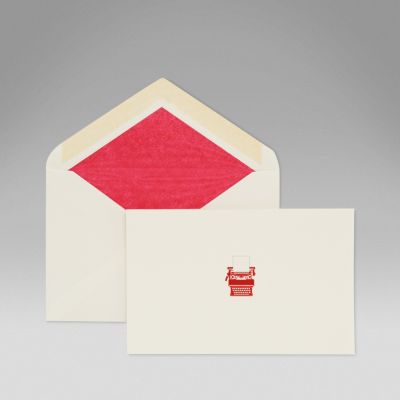 The Typewriter Notelets from Smythson includes a matching tissue-lined envelope – Start a tradition by exchanging written letters over the holidays with your family!
Bergdorf Goodman is the stop for high quality items such as these personalized Leather-Bound Notebooks, a gift to hold on to for years ahead.
You can find a beautiful, screenprinted by hand Marble Notes and Planner Set on Of a Kind created by Julia Kostreva which includes a notebook, planner and calendar.
 Being a fan of Thank You Notes, who wouldn't love to receive this Snowshow Holiday Thank You Card from Small Adventure once the snow has settled post-holiday season. Ha!
Lastly, for you local Twin Citians, if you are out and about this week, make sure to stop into my friend's new card and gift shop on 2515 and Nicollet Ave So…
South Minneapolis based Joel and Lauren from Old Tom Foolery have recently opened a bricks and mortar shop, Greater Goods, to sell their personal line and other goods as well. Swing by their Grand Opening Party tomorrow, December 18th from 4-9 pm with 15% off your purchase. The store even includes a writing corner and mailbox for those eager writers. My kind of folks!
 Lastly, don't forget your Postal carrier this time of year. They can't except cash, but a simple Gift Certificate will definitely put a step in their stride as they hand deliver your mail this year. And if a gift isn't in the cards this year, a written note expressing Greetings and Thanks just might be the best gift of all.