With many Moms finally finding some air after a hectic end-of-school-year season, the energy output continues on with Father's Day only 10 days away. I thought a few gift tips might be helpful. Let's begin with cards…
I'm crazy about the Fly Fishing Father's Day card created by the Floridian folks at Rifle Paper Co
This DIY Father's Day Card from Moomah is pretty darn sweet and not too difficult for even me!
Portland, OR's Quill & Fox has created the perfect card for the coffee-loving father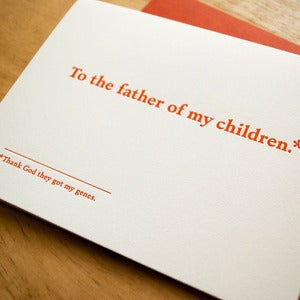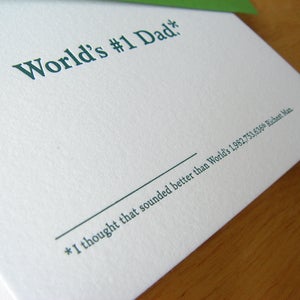 For the humorous dad, these memorable cards from local Old Tom Foolery will be appreciated
And now the treats…
These Kraft Notes from Kikkerland Design are classic, a must for any high-styling dad these days
And while you're on their site, include a Matchstick Pen with your order for a little gift topper!  (bonus: use coupon code FATHERS13 for 20% off, order by June 9th)
Restoration Hardware ate their Smart Pills when creating the Chalkboard Door Hanger. The kids might not like this one, but Dad will. Just think, he can write out the message the night before "Start coffee machine. Watch cartoons until 8." And all might be calm in the house just a wee bit longer…Imagine.
A quote from the beloved Star Wars on anything will put smiles on the Brown boys' faces especially when to comes to a Father's Day gift idea. Thankfully, the Yoda Essential Handbook seals the deal. You can even monogram the book for free! Love.
And while you're shuffling around my new favorite Owen & Fred website, why don't you pick up an Anti-Gravity Space Pen so Dad can feel a little Neal Armstrongesque on an off…or on day.
If Dad is like most men out there, he's lacking in the stationery department. Why not surprise him with a handsome, engraved Blue Fly note card from Terrapin Stationers?
Or for the sailor, the Golden Nautical card set is elegant and sporty
For New York Yankees fans, this Vintage Yankee Stadium Seat Pen was created from authentic wooden seats salvaged from the stadium before '73 when the seats turned to plastic. The disc at the top even features the original blue paint.
For the final touch, check out the latest design coming out of the USPS.
Every year over 140,000 images are sent to the USPS for consideration as a stamp. The latest Johnny Cash Forever Stamp was a standout for obvious reasons.
Of course, there is no reason anyone needs to spend a dollar on this day….
Have the kids create an IOU or coupon for projects around the home or look here for a printable Father's Day Check like the one above.
The best gifts of all are the handwritten ones in my mind. A poem, one sentence "I love you Dad" sentiment from a child, a list of the favorite attributes of your father. After he's loved and enjoyed on this holiday, tape the written thoughts in Dad's medicine cabinet, frame the words for his office desk, or place them in his glove compartment. These are reminders, created by the hand and heart, of the most important part of life.
(PS – If you're looking for even more gift ideas, check out my list from last year for inspiration.)