It's out there all right, all that frigid, jaw dropping, colder-than-cold temperatures….oops, I meant to say all that Love, Love, Love of course!  Another brilliant reason to scribble out a few heartfelt, warming thoughts to others over the next couple of weeks, especially with Valentine's Day approaching.  We wanted to share a bunch of our favorite love-themed notecards and also some DIY for those crafty folks out there….
Sugar Paper has created a simple card of Love using my favorite combination of pale gray and gold, with paper and foiled letterpress writing on a white envelope. Elegant yet understated.
This Carnation Love Card Set from Brown Parcel Press combines a bold color-block with a classic, playful style (pssst…keep your eyes open for new products on Brown Ink Paper Goods from this sweet, letterpress company in Georgia coming out in the new few weeks!)
Using hand-set metal and wood type, B.Impressed (via Moorea Seal) has created this typographic I Love U card for an in-your-face message for that certain someone in your life.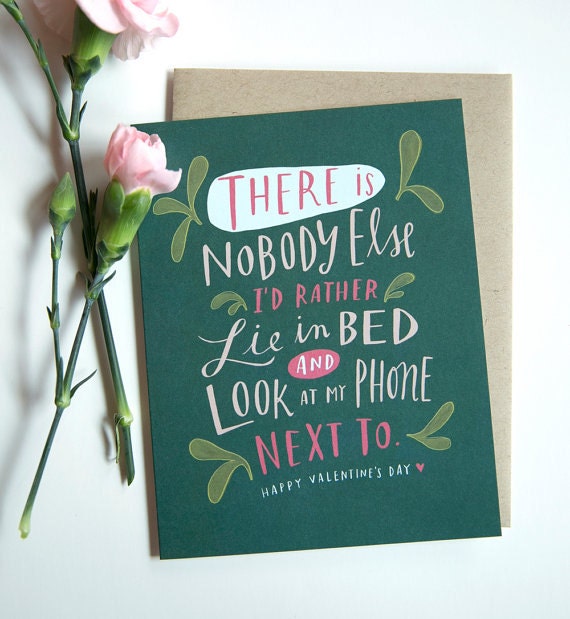 Then there's one for Generation Y (and maybe a few X's) lovebirds from Emily McDowell Draws.
Being a big fan of both stamps and writing, this one wins my heart. Created by paperfinger, I'm delighted to find a shop using hand-drawn calligraphy, starting the process with ink on paper.
And for those DIY fans…
My friend Kristin created these Pirate Valentines with her son Bennett who had been bugging her to take a turn on the sewing machine. They found this fabulous inspiration (and even a FREE download) from Mer Mag blog and away they went.
Looking to send someone a hug miles away? Create one giant hug by writing a note on cut-out hands and, instead of TP, use red ribbon which would reach around the lovable receiver's body.
I "Chews" You Valentine from All for the Boys can grab just about anything your heart desires.
If you are looking for a DIY inspirational project but afraid to make the jump, check out the  Valentine's Card workshop I attended a few years back when my crafty side took control.
Lastly, if your child is finally getting back to school tomorrow (at 8:36am to be exact) won't they smile to find a Valentine's Day Joke Note in their lunchbox signed by you?
Print off the FREE Valentine Joke Notes from All for the Boys to warm up those little chilled hearts!
And if you order these stamps now your written words of warmth and tenderness will arrive just in time with the recently released Cut Paper Heart stamp to seal the deal (read history of stamp here). Heat up some hearts and let those words flow!